The Home Show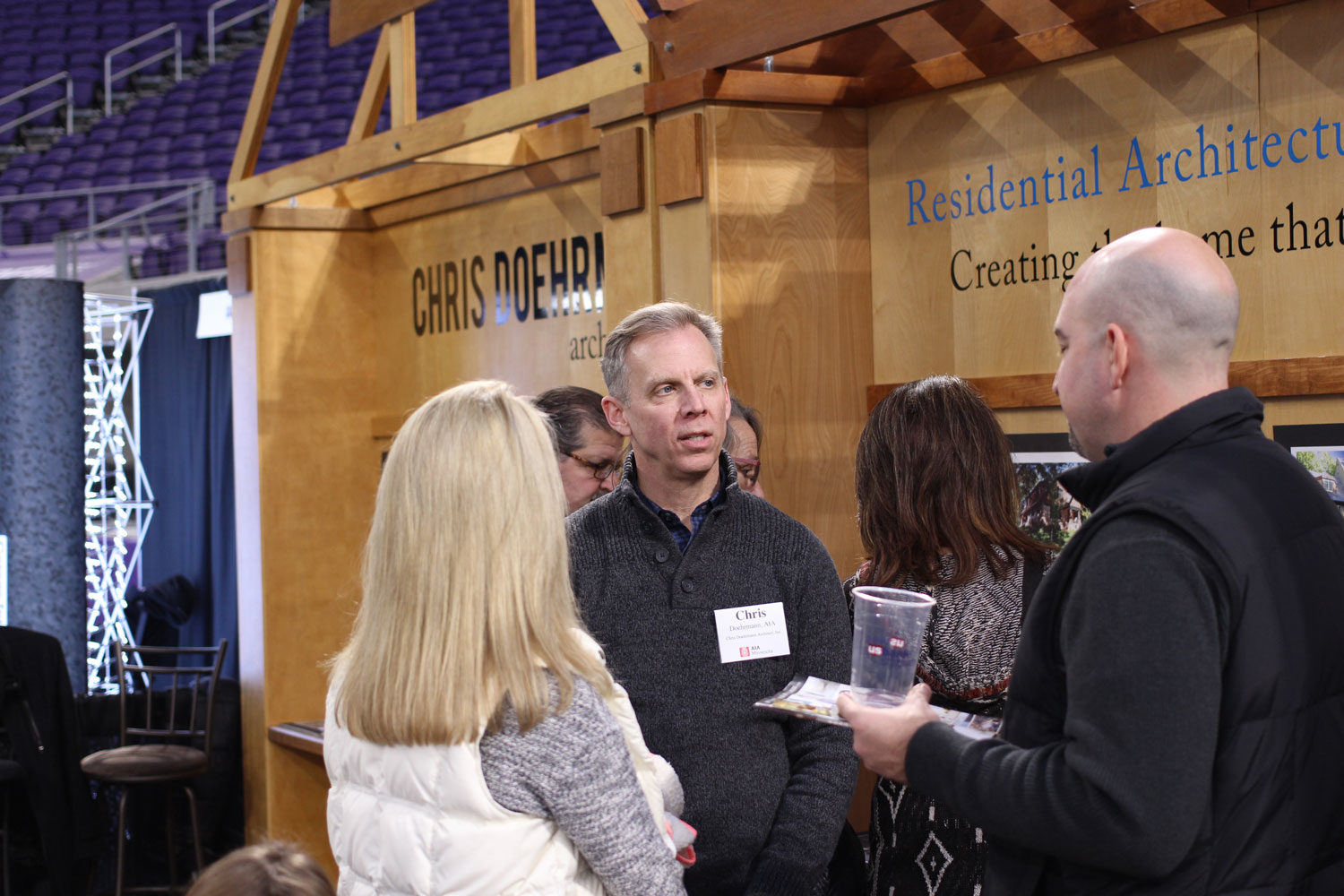 For the last twenty years, I've spent several weekends in the winter and spring talking with people at home shows. If you are planning a project or are looking for ideas, a home show is the perfect place to stop in and talk to Chris in person about your new home, addition or remodeling project. The Minneapolis Home & Remodeling Show, which is at the US Bank Stadium, is the first major show of the year and your first opportunity to start planning your projects for the new year. Get inspired and get started with tons of inspiration and helpful tips to take your home from what you thought was good enough to fantastic. If you are planning a project or are looking for ideas, a home show is the perfect place to stop in and talk to Chris about your new home, addition or remodeling project. (More) (Hide)
Visitors to the home shows come to look for home plans, see examples of modern, contemporary, transitional, and traditional residential architecture, and to also see the latest in Twin Cities home remodeling. In the past, when the Minneapolis Convention Center was only three domes and the Spring Home and Garden Show was the only ticket in town, the aisles would consist of a single mass of slow moving people. As an exhibitor you didn't dare step out of your booth for fear that the crowd would sweep you away. There are more home shows to choose from now and you can choose the show that is right for you. But before you choose look to make sure if I will be attending. With as busy as the home building industry has been for the last several years I have had to reduce the number of shows and lately have only been doing The Minneapolis Home & Remodeling Show.
With the expansion of the Convention Center and the explosion of local home improvement shows it's not always easy to know which shows are worth your time and what to expect from each of them. Bigger is not always better and just because a show is in your community doesn't mean it is worth your time. So, let's break down the best home shows that will give you the biggest bang for your buck and for the time you spend.
If you have a small home maintenance project, want to build a deck, or you are looking for a lawn service, the small community shows may be worth your time. However, if you want to shop for residential architecture services, interior design services, or for a custom home or remodeling contractor, you should consider one of the major shows. That being said, there are a myriad of shows and expos that will try to draw you in. But if you don't watch out you will end up wasting your time on shows that are filled with exhibitors that use high pressure techniques to sell you cable T.V, pots and pans, or the latest floor cleaning gadget. In the Twin Cities, the home show season is typically kicked off in late January and ends in early March. From the end of January to early March there will be 4 major home shows with two of them happening on the same weekend so I will only be at three.
The first show of the season is the Minneapolis Home & Remodeling Show in the US Bank Stadium, February 3 – 5, 2023. This show is run by the same organization as the Minneapolis Home & Garden Show and features national celebrity guests, local industry experts, and the latest products and services in home design and construction. The high quality of the exhibitors will ensure it will be the resource for creative inspiration and helpful advice for all of your home improvement projects. In addition, you can catch plenty of other presentations and live demonstrations at the Main Stage, featuring local and national experts in home improvement, architecture, remodeling, décor, and more. If all that isn't enough the stadium is spectacular and the view of the Minneapolis skyline is worth the trip on its own.
Next in line is the Minneapolis Lake Home & Cabin Show in the Minneapolis Convention Center February 10 – 12, 2023. It is well-run and draws high-quality exhibitors for the lake home and cabin market. Whether you are building new or already have a cabin or lake home and want to add on, this is the show for you. You will find everything for your special getaway home as the cabin comes indoor for the weekend. The very best companies specializing in lake and cabin country products and services will be ready to meet you. You will also find loads of information and resources at the show, along with seminars and activities scattered throughout the show.
The season finale and by far the largest show of the year is the Minneapolis Home & Garden Show in the Minneapolis Convention Center March 1 – 5, 2023. This show fills all four domes of the Minneapolis Convention Center and offers the most comprehensive gathering of landscaping and home improvement providers in the Midwest. Almost 90,000 homeowners attend the Minneapolis Home & Garden annually seeking helpful advice, solutions and new products for their next renovation, décor or landscape project. The Minneapolis Home & Garden features high-interest exhibits, high-profile industry personalities and the latest trends to help customers who are ready to move ahead with their home improvement projects.
Upcoming Home Shows
Minneapolis Home & Remodeling Show
Home & Remodeling Show: Booth #803, February 3-5, 2023
The Minneapolis Home & Remodeling Show, which is at the US Bank Stadium, is the first major show of the year and your first opportunity to start planning your project for 2023. Get inspired and get started with tons of inspiration and helpful tips to take your home from what you thought was good enough to fantastic. During the three-day show, you can shop, compare and save with hundreds of experts in remodeling your kitchen and bath, décor, flooring and more.
Since 2003, Kevin O'Connor has been appearing as host of the Emmy Award-winning home improvement series "This Old House" and "Ask This Old House" on PBS. He also hosts the podcast, "Clearstory," has published a book, "The Best Homes of This Old House," and has hosted shows for the DIY and History's H2 networks. Originally from New Jersey, Kevin lives with his wife and three children in a home north of Boston.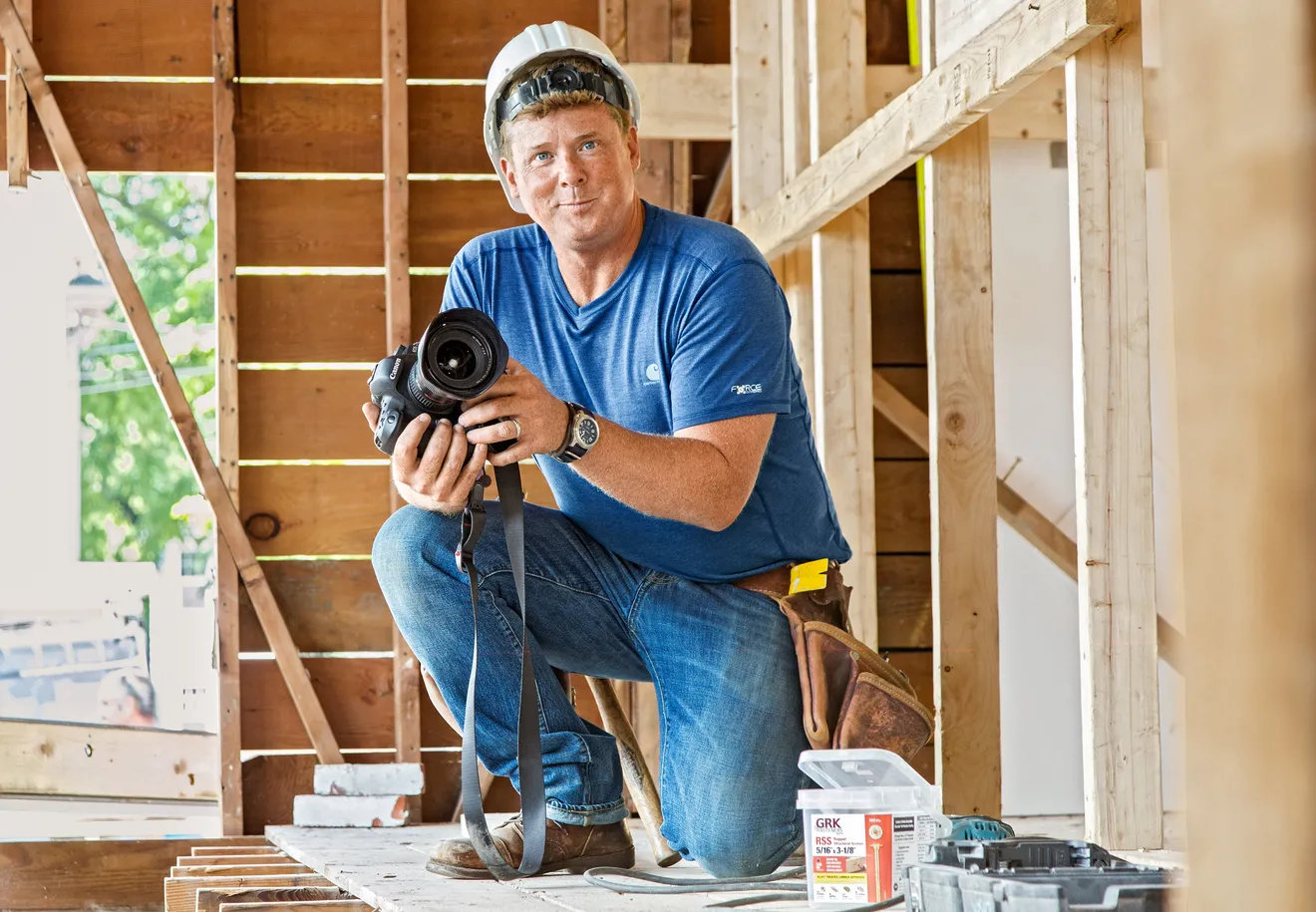 Building the Booth
A lot of work went into the design of Chris's Home Show Booth. The booth has been specifically engineered to store compactly and setup quickly and effectively with two people. For many years the night before the home show, Chris and his wife Julie would drive down the home show and together assemble the booth together. It was also designed to be spotted easily at the show. It's tresses extend up above other booths, allowing it to be seen by attendees from rows away.
Interview
Watch Jonathon Weiss, of Interiors International, interview Chris Doehrmann, AIA, at the Home & Garden Show about Why do I need an architect?
"People always ask me, 'why do I need an architect?' The answer is simple, being able to live the way you want in your home. You will spend hundreds of thousands of dollars – why would you want to wake up in your home every day with a list of things you wish you had done differently?" -Chris Doehrmann, AIA
Minnesota Lake Home & Cabin Show
Lake Home & Cabin Show: Booth #856 & 857, February 7-9, 2020
The Minnesota Lake Home & Cabin Show,which is at the Minneapolis Convention Center, is Minnesota's jumpstart to summer at the lake. There's nothing better than a long weekend at the lake home or cabin with family and friends and The Lake Home & Cabin Show will bring the cabin inside for you. Everything for your special getaway home will be there. The very best companies specializing in lake and cabin products and services will be ready to meet you.
Now in its 16th year, the Lake Home & Cabin Show is Minnesota's ONLY show that specializes in second homes and the second home lifestyle. If you own a lake home, cottage or cabin or you want to own one this is a truly unique and focused event you'll want to experience. There's nothing more Minnesotan than spending your summer weekends at the cabin. Some of us own or share a slice of "Cabin Heaven," while others are known as "OPC's" — we get invited to other people's cabins. Both of us are the lucky ones when there's a chair at the end of the dock for that first cup of morning coffee.
We have a love affair with our lake homes and cabins and each year we rekindle it at the Lake Home & Cabin Show. There will be features for everyone. Check back for updated information on seminars, activities, and events that will occur every hour on the Northwood's Seminar Stage or the Getaway Gourmet Cooking Stage.
Minneapolis Home & Garden Show
Home & Garden Show: Booth # 2617, February 26 – March 1, 2020
The Minneapolis Home & Garden Show, held in the Minneapolis Convention Center provides hundreds of home improvement experts and over 10,000 square feet of gorgeously landscaped space. You're sure to leave with tons of ideas for your space. After experimenting several years with a two weekend format this year's show goes back to the Wednesday through Sunday schedule that was has been the standard for the history of the show.
Pull up a chair at the Main Stage See Mike Rowe live Sat, February 29, 2020 at the Minneapolis Home & Garden Show. Mike Rowe, best known as the creator and host of Dirty Jobs, has been identified by Forbes as one of the country's 10 Most Trustworthy Celebrities. Mike's work with his foundation, mikeroweWORKS has given him an important voice in sounding the alarm around the skilled trade gap. "The mikeroweWORKS Foundation is committed to supporting the local builders, remodelers, installers, repairmen, and all skilled tradespeople who do the jobs that most people are unable or untrained to do. The Foundation awards financial assistance to people getting trained for skilled jobs that are in demand through its Work Ethic Scholarship Program. Since its inception, it has granted, or helped facilitate the granting of, more than $5 million in technical and vocational education.
---